Rear Door Heat Exchangers (RDHx)
The Coolcentric® family of rear door heat exchangers comprises passive and active liquid cooled heat exchangers. Rear Door Heat Exchangers replace standard rear doors on IT rack enclosures and by using the rack-mount devices draw cool supply air through the chassis, the heated exhaust air passes through a liquid-filled coil, transferring heat to the liquid with cool neutralized air flowing back into the data center.
Specially designed fin and tube coils are protected by two 79% open perforated sheets, to maintain airflow through the IT enclosure. Close-coupled to the IT enclosure, the heat exchangers bring cooling as close to the heat source as possible thus providing the ultimate containment solution. Taking up a minimum of floor space, the Coolcentric heat exchangers are flexible, efficient and space-saving turn-key cooling solutions.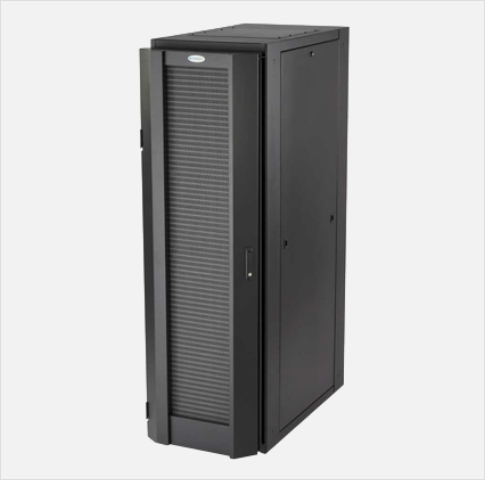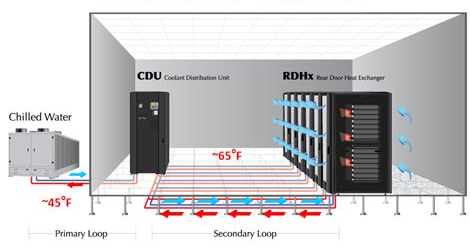 Coolant Distribution Units
The Coolant Distribution Unit (CDU) provides close controlled cooling water for a variety of heat exchanger devices such as the Coolcentric Rear Door Heat Exchangers (RDHx). The CDU creates an isolated secondary loop, separate from the chilled water supply (building chilled water, dedicated chiller etc.), enabling strict containment and precise control of the liquid cooling system. The CDU maintains the secondary loop supply temperature above the dew point of the data center, preventing condensation and ensuring 100% sensible cooling. Heat removed by connected RDHx is then transferred to the chilled water supply by means of a stainless steel plate heat exchanger within the CDU. The CDU controller provides intelligent monitoring and interfaces with building management systems and web management tools for the highest reliability.