Thermosyphon Heat Exchange
Munters SyCool Split provides an efficient cooling solution for new and retrofit installations where access to a suitable water supply may be limited, expensive or unreliable.

The system is available in 400 kW blocks of cooling capacity. Thermosyphon heat exchangers move heat from the data center to ambient through the evaporation of liquid refrigerant in the SyCool CRAH, and condensing of the same refrigerant in the SyCool condenser. The CRAH is connected to the condenser with refrigerant piping allowing up to 500' of separation. As long as the condenser receives air cooler than the CRAH, heat is exchanged passively for "free cooling" of the data center.

SyCool thermal effectiveness is nominally 70%, which greatly exceeds that of competing refrigerant based economizer systems.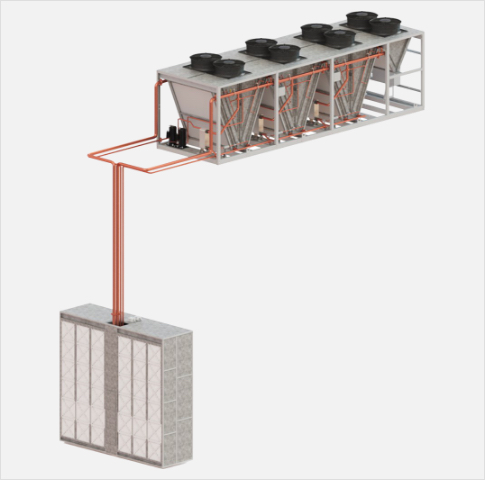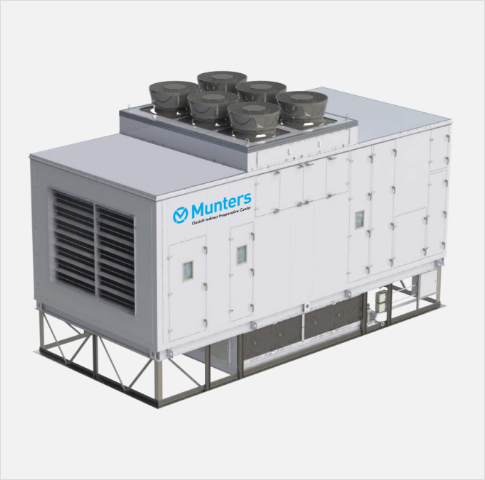 Indirect Evaporative Coolers
Oasis units use Munters patented Evaporative Polymer Exchanger (EPX). This heat exchanger uses a unique polymer tube design that provides efficient heat rejection while operating dry or wet (IEC mode). Munters EPX unique elliptical polymer tubes flex slightly during normal operation, shedding mineral scale that can accumulate during the indirect evaporative process. The Oasis indirect evaporative cooling product line can significantly reduce refrigeration usage and installed capacity in virtually all climates, reducing connected electrical load and compressor maintenance.

Munters Humimax™ is a series of standalone humidifier units. Humimax provides excellent humidification while letting you automatically control the level of humidity throughout a broad range of application areas, such as print houses, wood and furniture storages, museums and computer rooms as well as vegetable and fruit storage. The Humimax is available in three different sizes 2000, 5000 and 10000 m3/h depending on size of premises and humidification needs. The unit is designed to keep an optimum balance between required humidification efficiency and stability, as well as very low energy consumption. Easy installation (plug and play) and maintenance make the Humimax simple and straight forward to use by almost anyone.

Humimax™ features superb control functionality with minimum relative humidity fluctuation. In comparison with other humidification technologies, the evaporative humidifier consumes only the minimum of energy and is therefore the optimal choice both environmentally and economically.