Custom Indoor Agriculture Units
Air₂O Line for Indoor Facilities
Air₂O's line for indoor facilities employs a number of cooling and dehumidification means to create the most conducive cannabis environment: an array of fans for superior airflow distribution and redundancy, an indirect evaporative cooling and waterside economizer for improved efficiency, a DX system with adiabatically cooled condenser plus HGBP for superior dehumidification, and an optional CW / HW coils for integration with a chiller / boiler if necessary.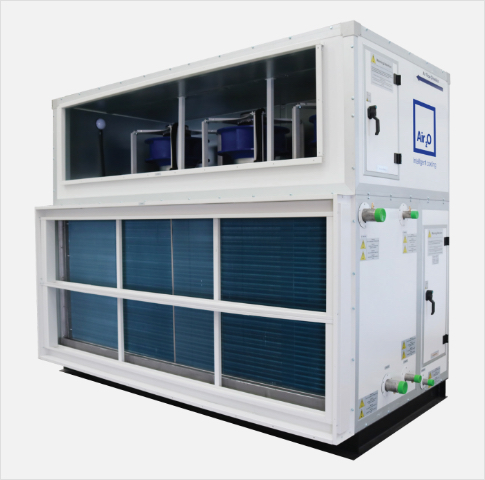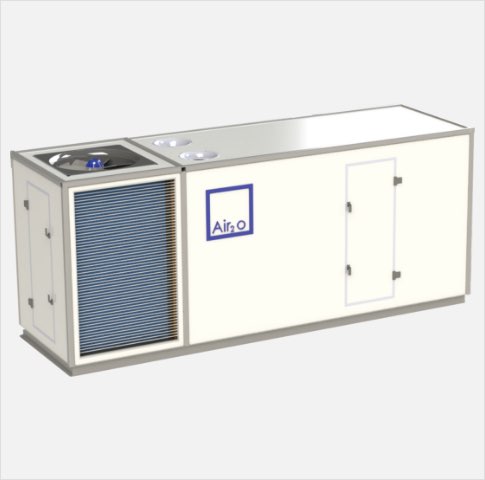 Air₂O Line with Heat Pipe Technology
Dehumidification is arguably the greatest challenge for HVAC systems when it comes to climate control of indoor facilities. The process of dehumidification by condensation requires lowering the temperature of the processed air, and upon removing the excess moisture, adding the thermal energy back into the system. To increase the efficiency of this process and reduce the energy consumption, Air₂O utilizes a heat pipe /wrap-around coil system that facilitate "free" energy transfer. This allows for efficient operations with up to 30% reduction in the size of the compressor and low operating energy consumption. Air₂O Heat Pipe systems are flexible in configuration and they can be designed as packaged units or split systems with air- or water-cooled condensers and a various methods of heat rejection: adiabatic fluid coolers, cooling towers, etc.
Custom Indoor Agriculture Units
Air₂O Line for Indoor Grow with Rotary Desiccant Dehumidifiers (RDD)
Air₂O's line with rotary desiccant dehumidifiers offers enhanced environment control and efficiency. This solution utilizes a differentiated temperature and humidity control which has been designed specifically to meet the climate control challenges during the advanced flowering stage of 66-70°F and 30-40%RH. This approach offers additional electrical energy savings, but it requires an input of thermal energy (natural gas, LPP or a Cogen system). This solution is economically viable for projects that have limited power supply, high electrical energy cost or a source of waste heat.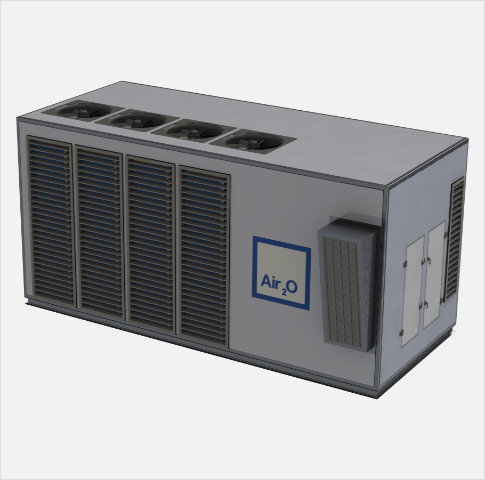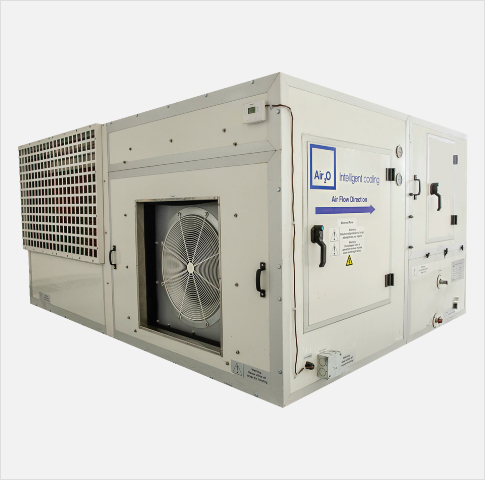 Air₂O Line with Dual Heat Pipe Technology (DHP)
Air₂O's line with dual heat pipe technology is based on a proprietary design that takes advantage of heat pipe technology. This innovative approach utilizes a wrap around coil not only for "free" energy transfer, but it also functions as a winter air-side economizer. This allows for 30% compressor size reduction and offers additional energy savings in the winter mode. The system is intended for commercial spaces with large airflow volume demands. This particular product model is available only as an outdoor packaged unit.
Custom Greenhouse Agriculture
Air₂O Line for Sealed Greenhouses
Air₂O's Greenhouse line is designed to enhance greenhouse climate control beyond "fan and pad" cooling. It helps grow better quality product and increase the yields by over 25%. The basic approach to active cooling of greenhouses in hot and arid regions is "fan and pad" cooling with many design-inherent shortcomings that adversely affect the quality and quantity of the crops. Traditional AC systems generally are not economically viable for greenhouses (except for northern territories). Alternative cold production technologies are often unavailable, ineffective or costly.