Today, the world runs on critical infrastructure and technology. Planes. Hospitals. Factories. Data centers. Vehicles. The electrical grid. These are things people depend on every day. And the companies behind them depend on us to help solve some of the toughest power management challenges on the planet. At Eaton, we're dedicated to improving people's lives and the environment with power management technologies that are more reliable, efficient, safe and sustainable.
9395 Series (200kVA-1.5MW)
With an unprecedented level of power performance, reliability, and energy savings, the state-of-the-art 9395 UPS has raised the bar in three-phase power protection technology. As IT managers, facility managers and CIOs feel increasing pressure to achieve zero downtime, and availability requirements rise, the search for the most reliable and efficient power protection system has become even more critical. But that search is now over. For more than 40 years, Eaton has been dedicated to delivering the most technologically advanced products for our customer's mission- critical applications–a commitment exemplified by the new 9395. More than an innovative, cutting-edge UPS, it's a quantum leap in three-phase technology.
✔ OSHPD Certified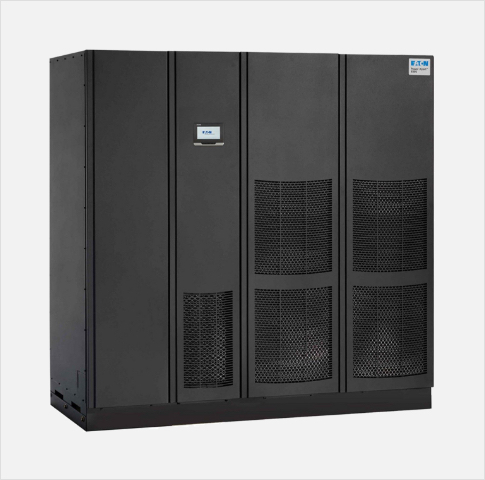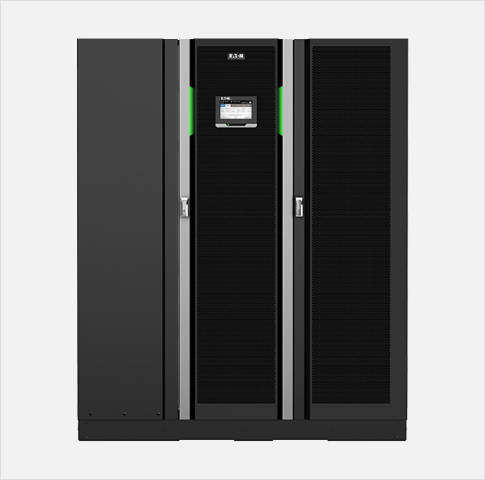 The Eaton 93PM UPS is the perfect three-phase white or gray space solution for modern data centers. The 93PM is compatible with lithium-ion UPS batteries, which are 40 percent smaller than VRLA batteries and have twice the lifespan, saving money on battery replacement costs and extra square footage for battery cabinets. The option of front-to-back or front-to-top ventilation maximizes deployment flexibility and lowers your cooling costs. In addition, you can add a number of optional, full integrated accessories for a complete system, including a maintenance bypass, a distribution cabinet (with input and output transformer options), a power distribution cabinet, parallel tie cabinets and battery cabinets as well as a wall-mounted or floor mounted bypass. Whether for a large data center, medical facility or educational institution, the efficiency provided by the 93PM can play a vital role in any low maintenance, ten-year power solution.
9355 Series (10kVA-30kVA)
Responding to the challenge of providing effective power protection for ever-expanding loads in shrinking spaces, the 9355 three-phase UPS delivers enhanced power protection in half the footprint of previous generation systems. The 9355 UPS provides 10 to 30 kVA of power protection in a sleek tower configuration that includes internal batteries. This innovative design delivers one of the industry's best combinations of high efficiency, low input current distortion and high power factor. The result is maximal economy, adaptability and power performance.
✔ OSHPD Certified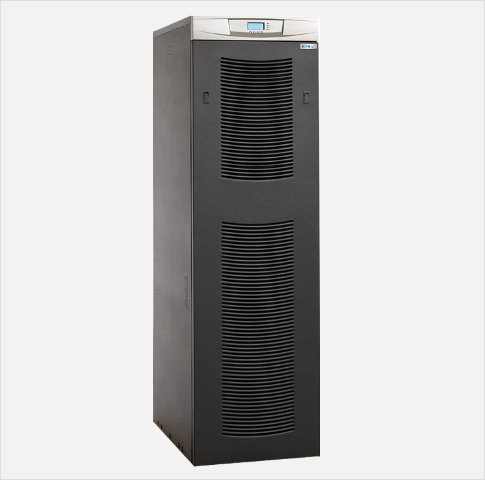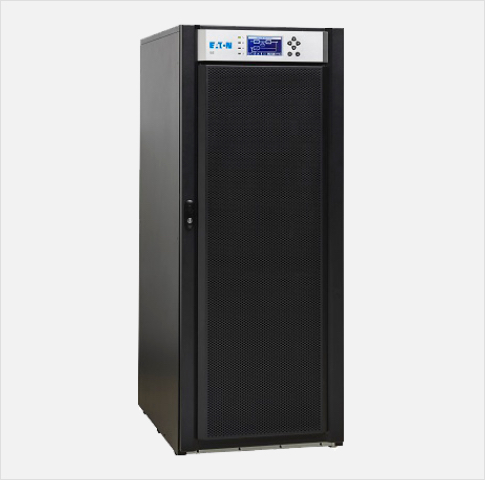 The Eaton 93E UPS is three-phase, double-conversion online UPS that helps you address your biggest data center challenges: operating costs, remote management and unplanned downtime. With internal batteries that provide up to 21 minutes of runtime and a 7 percent higher efficiency rating than competitive units, the 93E UPS maximizes the protection you get for every square foot of floor space and every utility dollar you spend. A detachable maintenance bypass with a mean time to repair of <30 minutes and enhanced management and monitoring capabilities from Eaton's Intelligence Platform increase the reliability of the system and the amount of control you have without even setting foot in the data center.
The Eaton BladeUPS is a three-phase, scalable and modular UPS for high density computing environments, including virtualized or machine learning IT applications. The BladeUPS delivers 5, 8 or 12 kW of efficient, reliable power in only 6U of rack space, including batteries. You can expand its capacity by combining 12 kW modules in a scalable, building block fashion to deliver 60 kW (N+1) from a single rack enclosure. This powerful configuration delivers higher power density than competitive, modular solutions while dissipating only one-third of the heat. By incorporating a BladeUPSs bus bar, you can easily self-install new paralleled units to keep up with your data center needs. While you can design a BladeUPS from scratch, you can also quickly deploy the Eaton BladeUPS Preassembled System, which is a turnkey solution featuring easy customization, shipping and installation. The BladeUPS can be easily monitored via the units' brightly backlit LCD screen and through Eaton's Intelligence Platform.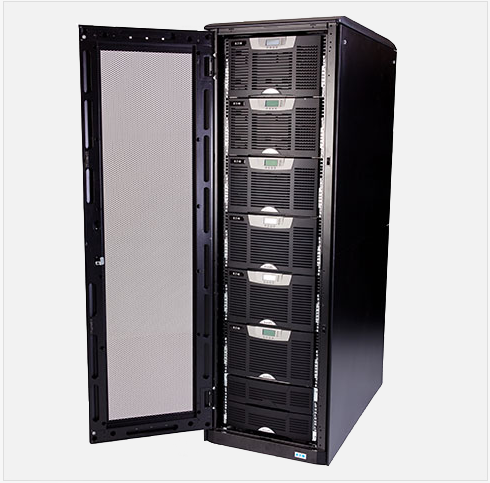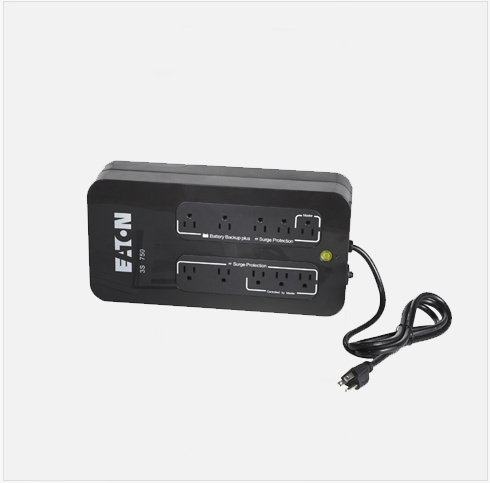 The Eaton 3S UPS provides up to 30 minutes of high efficiency and energy-saving battery backup and surge protection for your home and office equipment. The plug-and play functionality of the 3S standby UPS allows you to start backing up your equipment the moment it's taken out of the box, with automatic integration with Windows, Mac and Linux through a simple connection to a USB port on most models. The 3S manages your energy efficiency for you with an available EcoControl function that automatically disables peripherals when the master device is turned off, providing up to 30 percent greater energy savings than typical battery backups. The sleek design of the 3S home UPS fits neatly under the desk, in an entertainment center or on the wall.
Applications include: Residential, retail, banks.
Protected equipment may include: Routers and home networking devices, TVs, entertainment centers and other electronic equipment.
Eaton's 5 series offers enterprise-class battery backup for desktops, network closets, storage and small data centers. All 5 series models feature a graphical LCD interface that provides clear status of key UPS information and come with Eaton's Intelligent Power Manager software to allow you to optimize power performance in your virtualized environments.  View overview of features and benefits for each 5 series UPS.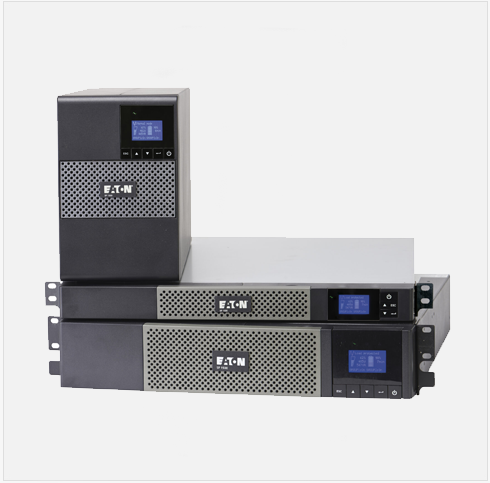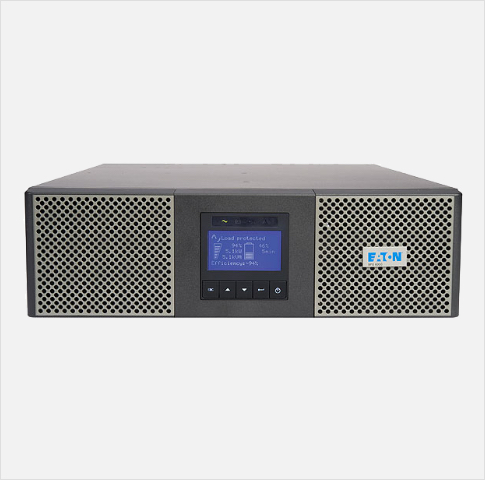 Reliable. Versatile. Powerful. Efficient. With these features and more, the Eaton 9PX UPS integrates seamlessly into just about any IT environment. It's ideal for keeping servers, switches, voice and data networks and storage systems online, supporting your overall goal of business continuity.
A graphical LCD interface provides full UPS status, energy consumption analytics, enhanced configuration capabilities and load segment control. And when paired with Eaton's Intelligent Power Manager (IPM) software, you can monitor and manage your power devices from one dashboard no matter where you are. It also allows you to automate load shedding, power capping and failover to a disaster site since IPM integrates with virtual platforms.
The 9PX lithium-ion UPS is part of the Eaton 9 series singlephase
double-conversion UPS line, best applied to mission-critical
equipment for constant power conditioning. The 9PX lithiumion
UPS provides 8 to 10 years of life expectancy for UPS and
its batteries, and has power ratings ranging from 1 to 3 kVA,
while also offering up to four external battery modules (EBM)
for extra runtime. The 9PX lithium-ion UPS has the same reliable
features as the 9PX lead-acid UPS, including load segments for
prioritized shutdowns, remote power on (RPO), remote on/off
(ROO) and output relay ports that increase control capabilities.
For connectivity, the 9PX is compatible with the Gigabit Network
Card (NETWORK-M2), which is the first UPS connectivity device
to meet both UL and IEC cybersecurity standards. This network
interface card improves power system reliability by providing
warnings of pending issues and helping to perform orderly graceful
shutdown of servers and storage.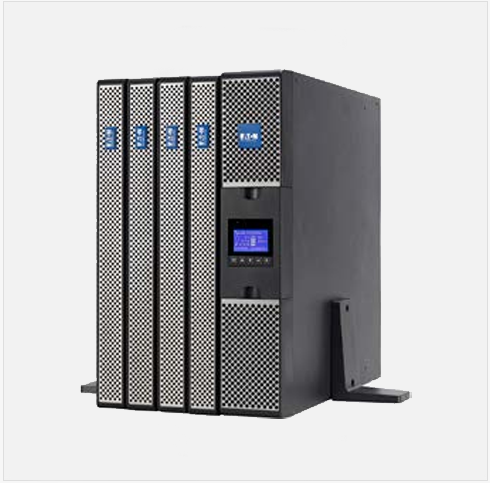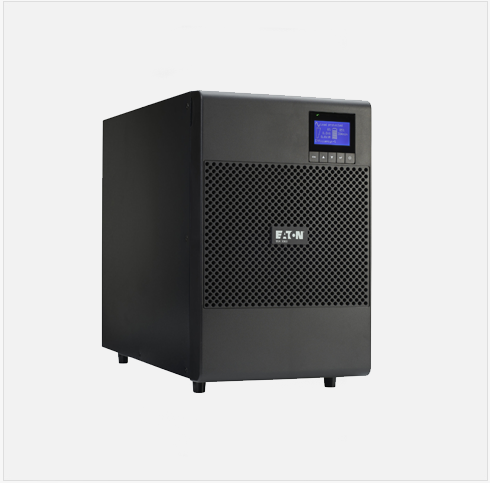 With robust online double-conversion power protection, zero transfer time to battery, continuous filtering of power, and an internal, automatic static bypass, the Eaton 9SX tower UPS consistently delivers reliable performance. The 9SX UPS provides up to 28 percent more wattage compared to traditional UPSs, allowing you to connect more devices and leave room for expanding IT systems. Compatible, line-and-match battery packs allow you to tailor the runtime of the 9SX UPS to meet your requirements. The 9SX easy-to-ready LCD display gives you access to UPS alarm history, energy logs, unit serial numbers and firmware versions to enable first-time issue resolution right at the source. Eight, user-selectable languages ensure success for global deployments.
Typical applications: Medical/healthcare, light industrial, K-12, universities, automation, manufacturing
The Eaton 9PXM UPS is a scalable, modular UPS that combines the highest levels of reliability and the lowest total cost of ownership. Eaton's 9PXM enables you to build a mission critical power solution specific to your needs. Its patented design allows you to add capacity or redundancy, and increase runtime as your power needs change. The plug-and-play power and battery modules are lightweight and user replaceable so you can add them as needed without a service call or having to put a redundant system in bypass. The 9PXM's 20KVA N+1 capacity, small footprint and easy rack conversion make it an ideal solution for an array of data center, mission critical, and retail applications. The design offers harmonious compatibility with 4-post or high density racks, PDU's and network gear for seamless integration into existing IT in infrastructure. 
Applications include: Front and Back end Retail, Banking, Mission Critical, Call Centers, 911 Centers, Extended Runtime/Remote installations.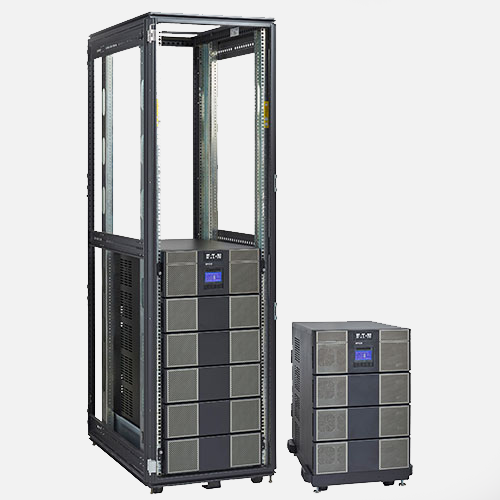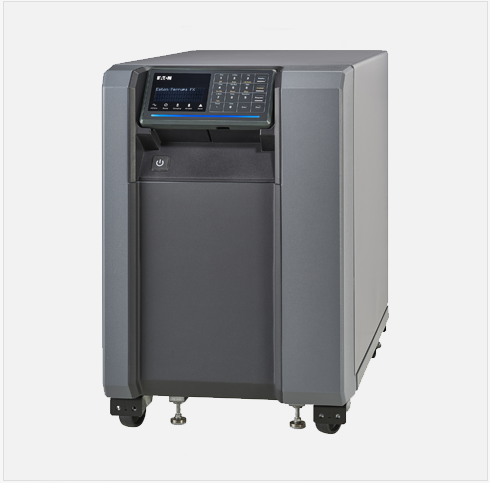 Ferrups FX Series (1.1kVA-18kVA)
Combining a reliable and customizable design with a remote-control display screen featuring a LED bar, the Eaton Ferrups FX UPS provides rugged, IIoT-ready protection for your industrial power infrastructure. The Ferrups FX UPS supports extended runtime applications and can be deployed in harsh power environments where traditional uninterruptible power supply models are susceptible to power surge events. This industrial UPS is a completely updated and revitalized edition that builds upon the decades of proven performance of the legacy Eaton FERRUPS UPS.
Applications: Oil and gas, military deployments, 911 centers, machinery automation industrial automation, harsh electrical environments, manufacturing facilities, water/wastewater and healthcare
9155 (8kVA-15kVA)
9155 UL924 (6.8kW-9kW)
The Eaton 9155 UPS is a single-phase, double-conversion online UPS. Providing 5,500 watts per square foot with a 0.9 output power factor, the 9155 UPS helps get the most value out of your floor space and data center operating budget. This UPS offers endless opportunities to build out the backup power system you need with an optional maintenance bypass switch, network card and relay communications outputs, and Eaton's patented HotSync technology that makes it easy to add redundancy or capacity.
With state-of-the-art features and a wide range of power ratings, Eaton's UL 924 UPS portfolio contains a solution for any emergency lighting application or environment. Covering both emergency and auxiliary lighting and power applications, all of our UL 924 backup power solutions are supported by our award-winning service organization. You can be confident that your emergency lighting equipment is supported and reliable–no matter what Eaton UPS solution you choose.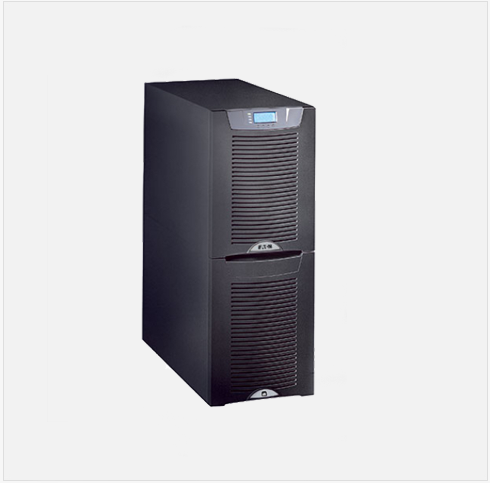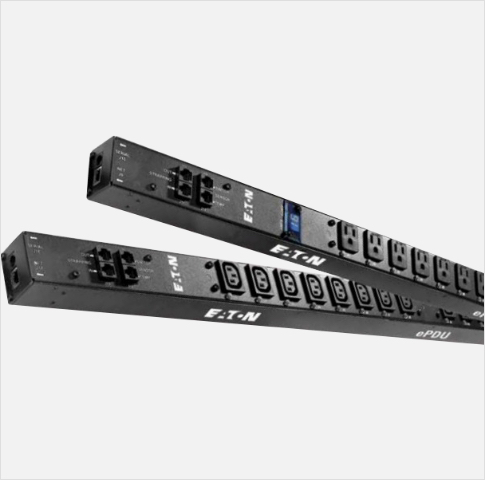 4 to 17 kW / 15 to 60 amp
Enclosure Power Distribution Units (ePDUs) designed for escalating power requirements.
Eaton now offers a complete suite of Enclosure Power Distribution Units (ePDUs) to help IT managers meet their rapidly escalating power requirements. These PDUs complement your or third-party UPS systems, distributing power to up to 24 or 45 receptacles in high-density rack environments – or anywhere conditioned power must be distributed to multiple pieces of equipment.
Eaton is unique in the industry for providing a tiered set of PDU product families along two dimensions – tiered both in power capacity and in functionality. That means you can precisely match up the combination of features and power rating needed for each application.
Eaton RS Enclosure server rack
The Eaton RS Enclosure is a server rack available in network, server and colocation models to meet a variety of application demands. The versatile RS Enclosures offer everything from customizable and flexible mounting options for power equipment to high-flow doors for maximum airflow and a wide array of cable management options.