… & INTEGRATED MICROGRID HARDWARE SOFTWARE CONTROL SOLUTION
Russelectric®, manufacturer of high-integrity on-site power control systems, has developed a fully integrated physical, operational, and financial control platform. This innovative solution is the Russelectric Distributed Energy Controller (RDEC). It is designed to support complex, mission critical distributed energy systems, ranging from partial back-up generation and demand management to fully functional microgrids.
Your facility is striving to do everything right to maximize a small to medium microgrid when it comes to operating seamlessly during the inevitable power outage. Alternative energies are also in place for cost savings, energy efficiency and green energy. But wait, there's more to be accomplished thanks to Russeletric's revolutionary RDEC control solution.
Kurt Richard of RAMTEK, Russeletric's Sales Representatives in Southern California, remarked, "A unique aspect of RDEC is only Russelectric is bringing multiple alternate energy sources – namely solar, energy storage, generator and utility, all onto one electrical bus. The solution evaluates which is the most efficient, least expensive and most reliable energy source. Then, RDEC automatically monitors and transitions to the best use of energy, enabling users to meet state incentive programs for green energy."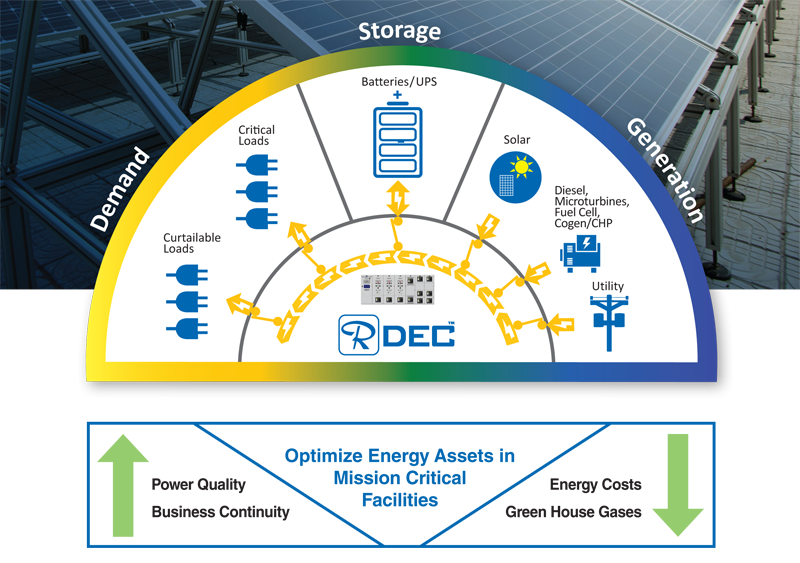 RDEC is an ideal solution for small to medium micro-grid applications used by school districts, higher education, and healthcare and campus environments. Facilities can expect seamless islanding and a seamless transition back to grid-connected operation.
INTEGRATION OF CLEAN ALTERNATIVE ENERGY SOURCES
Why make the commitment to alternative energy sources if they are not being used to their full potential? RDEC transfers the control of your clean energy sources from the grid, to your micro-grid. For example, most existing PV systems (solar power systems) are connected to the grid and designed to shut down during grid outages. RDEC integrates your PV system to power your facility during outages. Coupled with least cost clean energy storage options, grid demand is reduced, resulting in:
Maintenance of critical loads during short outages
The storage of permit-limited emissions generation for long outages
LOWERED ENERGY COSTS & GREENHOUSE GASES
RDEC is a micro-grid's taskmaster, assuring all energy sources are running lean and mean – with no interruption 24-7. In the process, RDEC optimizes your facility's controllable demands, onsite storage and power generation to reduce energy costs and cost volatility. Greenhouse gases are lowered through the assimilation of onsite renewable generation resources. They are transferred into a facility's distributed energy system, also helping to achieve sustainability goals.
IMPROVED RELIABILITY & BUSINESS CONTINUIT
RDEC delivers seamless control. For both short and long duration outages, a seamless solution means your facility's electrical demand and generation assets will provide reliability, least cost and least emission business continuity strategies.
An added layer of dependability is Russelectric's reliable transfer switches, switchgear, and power controller. All are at the core of each RDEC, providing continuous physical, data, and control integration of your facility's onsite demand and generation assets.
Contact a RAMTEK engineer to discuss Russelectric's Distributed Energy Controller (RDEC).
Email: sales@ram-tek.com
Main: 949.266.1400 | Toll Free: 877.798.1480